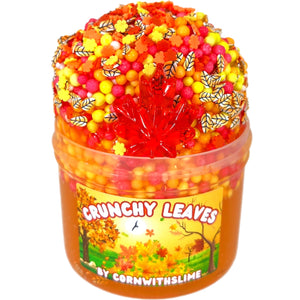 Crunchy Leaves
♡Size: 8oz
♡Texture: clear micro floam slime
♡Scent: autumn leaves
♡Add-Ins: leaf charm + sprinkle mix
♡Level: advanced
♡Description: Our Crunchy Leaves slime has micro & nano floam beads that make the slime texture super crunchy, stretchy, and makes amazing bubble pops. Scented just like autumn leaves in fall. All add—ins come separately in a baggie for to add yourself.
ALL ORDERS OF 6+ SLIMES COME WITH 1 SPECIAL GIFT:
Cornwithslime wristband, mochi squishy, or jumbo sized candy
(gifts can vary from any of the above)
A slime care kit with borax and slime care instructions is included in all orders.
Crunchy Fall Feels!!
I absolutely love this slime! It's everything about fall that I love; the colors, smells, crunchiness of the leaves. One of my favorite slimes to date! I'm so glad it exists and I hope that others will give it a try too because it's amazing! Oh and the smell is sooooooooooo good! :)
AMAZING!
I absolutely loved this slime! It was packaged amazingly, it had minor fallout, but it was no problem! Def recommend this.