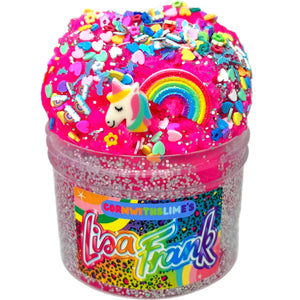 Lisa Frank
♡Size: 8oz
♡Texture: icee
♡Scent: raspberry lemonade
♡Add-Ins: unicorn charm + sprinkle mix
♡Level: beginner
♡Description: Our Lisa Frank slime is covered in holographic glitter on the outside. It has an icee texture that is soft, sizzly and great for beginners. All add-ins come on top of the slime inside. Scented just like sweet raspberry lemonade!
ALL ORDERS OF 6+ SLIMES COME WITH 1 SPECIAL GIFT:
Cornwithslime wristband, Cornwithslime tattoo, squishy, or jumbo sized candy
(gifts can vary from any of the above)
A slime care kit with borax and slime care instructions is included in all orders.
Awesome
I've enjoyed playing with my slime and I purchased some for my friend who is obsessed with slime.
We love it!
It was really cute and my 6 year old loved the add ins
Great!
Got this for my daughters birthday and she loved it. She loves the texture of the slime. Great beginner slime.
New fave!
Wow!! Something about the texture, smell, and overall appearance is so appreciative! Absolute A+++.. LOVE this one!!