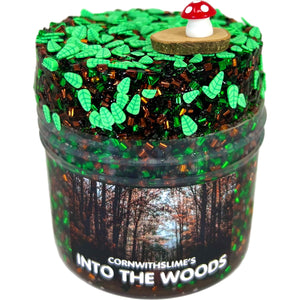 Into The Woods
♡Size: 8oz
♡Texture: bingsu slime
♡Scent: fresh dirt & woody (smells earthy like nature!!!)
♡Add-Ins: real circle wood charm + mushroom charm + leaf fimos
♡Level: advanced
♡Description: Our Into The Woods slime has a bingsu texture that is super crunchy and makes the best bubble pops. It scented like fresh dirt and freshly cut wood. All add-ins come separately in a baggie for you to add yourself.
ALL ORDERS OF 6+ SLIMES COME WITH 1 SPECIAL GIFT:
Cornwithslime wristband, mochi squishy, or jumbo sized candy
(gifts can vary from any of the above)
A slime care kit with borax and slime care instructions is included in all orders.
What you see is what you get
lol everything used to describe this slime is spot on. It literally smells like I went out in the woods and plopped face down on the ground. The texture is perfect and has great stretch
Soapy dirt
The texture on this one is pleasant and the charms were so cute. The overall look was amazing too coated light brown and the green and brown bingsu look like leaves on forest floor. The major downside was the smell is awful, it does not smell like dirt, it smells like soap from the earth. It really kills the vibe for it as I was really hoping for dirt.