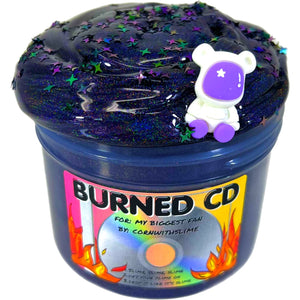 Burned CD
♡Size: 8oz
♡Texture: pigmented clear slime
♡Scent: coca cola soda
♡Add-Ins: space clear charm + iridescent black glitters
♡Level: advanced
♡Description: Our Burned CD slime has a clear slime texture that is thick, clicky, and makes great bubble pops. Scented like a refreshing Coca Cola drink. For maximum holographic effect must be in sunlight. All add-ins come separately in a baggie for you to add yourself.
ALL ORDERS OF 6+ SLIMES COME WITH 1 SPECIAL GIFT:
Cornwithslime wristband, mochi squishy, or jumbo sized candy
(gifts can vary from any of the above)
A slime care kit with borax and slime care instructions is included in all orders.
Loved it! Will purchase again!
Absolutely loved the 4 slimes we purchased!! Will definitely be purchasing again.