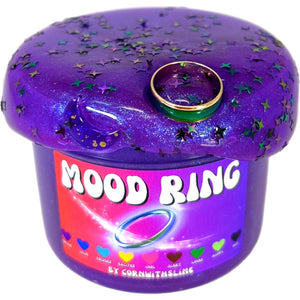 Mood Ring
♡Size: 8oz
♡Texture: pigmented clear slime
♡Scent: sweet tarts
♡Add-Ins: mood ring + moon charm + iridescent black star glitter
♡Level: advanced
♡Description: Our Mood Ring slime has a pigmented clear slime texture that is thick, clicky, and makes great bubble pops. Scented like sweet tarts which smells sweet and delicious. All add-ins come separately in a baggie for you to add yourself.
ALL ORDERS OF 6+ SLIMES COME WITH 1 SPECIAL GIFT:
Cornwithslime wristband, Cornwithslime tattoo, squishy, or jumbo sized candy
(gifts can vary from any of the above)
A slime care kit with borax and slime care instructions is included in all orders.
Mood ring
I really enjoyed this slime and it's my favorite color. Purple!!!😍 and the scent was delightful as always.
Nice
It was sticky at first but I like how they put borax and instructions to fix it , it was very easy to read . And I love the color , the ring as well , I love this slime
Pretty and smells great but sticky
Mood ring is really pretty and the stars add a nice touch. my only issue is no matter how much activator I use its very sticky. I had more fun with it when I just played with half at a time, that way I was able to manage the stickiness better.
Would recommend
When this slime arrived, it was a bit melted. I looked in my package, and could not find the borax powder at all. I soon found a solution, and love playing with this slime. It helps with my anxiety. I would, and will recommend this to everyone I know. Great product.
Nice but over priced
Kid loves the slime BUT mom does not like how expensive it is